866-361-0900

or

215-634-8065
News
Is Teen Drinking a Taboo?
Aug 28, 2012 | News Archive
To celebrate the start of a new fall semester, WURD Intern Jakim Lett shares his thoughts on the taboos and faux pas of teen drinking!
For years, there has been one question that haunts the lives of teenagers of the modern U.S......."Why do I have to be 21 to be able to drink alcohol?" As usual, parents try their hardest to refrain their kids and teenagers from alcohol. They see it as letting their children be completely reckless and in danger. What parents may not know and understand is that in a way, drinking is a sort of expression of rebellion andexcess way of relieving stress. Now, we all remember our young days. The time where we were all at our prime, in high school. Maybe you were captain of the football team, head cheerleader, or maybe you were like me, a nerdy- loner type. At some point in your teenage life, things got so stressful that you just HAD to relieve yourself of it all. Some teens eventually turn to alcohol.

At one time in a teenager's life, there will be those days and moments when your parents can ROYALY piss you off. You may have stayed out way pass curfew, didn't do your chores, etc. After all the yelling and stuff that they do, one might be feeling a lot of animosity towards their parent. See, when I was little, after my parents yelled and left the room, since its the only thing I could think of, I would just put up my middle finger. But throughout the years, that sort of "i gotta get them back" feeling progresses. Some teenagers might think that if they drink, that's getting back at their parents. Trust me, if I wasn't the kind of square that I am now, I might be one of those people who drink.
Whenever the question "Should the drinking age be lowered from 21 to a younger age?" comes up, my friends and I are all too quick to say, "YES!". But sometimes, I think that if it was, in most cases, the allure of drinking would go away since we all see it a source of rebellion. It might still be seen as an act of rebellion even if the age limit is lowered, possibly since and enormous amount of alcohol consumption comes with great risks. In some cases, alcohol can lead to teen depression, suicide, a decrease in academic performance, car accidents, alcohol addiction and abuse, and a delay in brain development.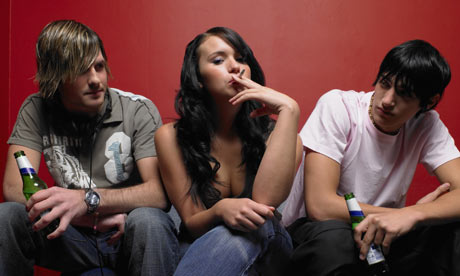 Statistics say that by age 18, more than 70 percent of teens have had at least one drink. In 2009,  the Monitoring the Future Survey reported that 37% of 8th graders and 72% of 12th graders had tried alcohol, and 15% of 8th graders and 44% of 12th graders drank during the past month. The 2009 Youth Risk Behavior Survey5 found that among high school students, during the past 30 days
42% drank some amount of alcohol.

24% binge drank.

10% drove after drinking alcohol.

28% rode with a driver who had been drinking alcohol
A heavy consumption of alcohol will always have it's risks, but another thing that's inevitable is parents always jumping to the worst conclusions. "What my teenager isn't doing drugs and IS just out late with his/her friends? Maybe I should trust that my child knows right from wrong and that I can trust their decision." I think that these are the types of questions and statements that some parents don't really ask or think to themselves before jumping to conclusions. Parents that have loved and nurtured their kids into their teenage years MUST realize that somewhere along the way, they did something right. Okay, we're teenagers, so its in our nature to EVENTUALLY do something stupid. But with  loving and caring parents, we can learn from our mistakes  and know how to avoid it should the situation come up again.
For the past few decades or so, underage drinking has been televised in many pop culture films and TV shows. Some of those films and shows include Grease(1978), The Simpsons Movie(2007), The Social Network (2010), Superbad(2007), Degrassi: The Next Generation(2001-present), Gossip Girl(2007-present), and One Tree Hill (2003-2012).
One of my favorite shows, that I think really can delve out the issues that most teenagers my age deal with is Degrassi: The Next Generation. Degrassi: The Next Generation is a Canadian teen drama television series set in a school called Degrassi Community School. Throughout the years that its been on television, Degrassi has covered MANY teen related issues like Alcohol abuse, Bullying, Drugs, Runaways, Attempted Suicide, University Life, Rape, Dating, Teenage Parenting and many other topics.

Fiona Coyne is a character on Degrassi and definitely one that is interesting. Fiona(played by Annie Clark) first appears in Season 9 along with her twin brother Declan Coyne. Through her time on the show, Fiona becomes a new person. While doing so, she discovers that she is a lesbian and an alcoholic. She first turns to alcohol due to jealousy, and the fact of being in an abusive relationship with then boyfriend, Bobby Beckonridge, whilst still in New York on Spring Break. After a while of being back at Degrassi, Fiona is back to her old ways and results back to drinking due to her everyday problems. At some points, Fiona would show up to school buzzed, lie about her drinking to her family and friends and even drink due to her anxiety because of her parents wanting to take Bobby to court. Fortunately, when Fiona halls off the edge, her best friend Holly J and her mother enroll her into a rehabilitation center to get help.
Unfortunately, most parents would be controversial about their children being exposed to such things but I say SO WHAT?. Would you want your kids to be shielded from the many horrors of the world or face them head on, and learn from the mistakes they make. As much as they want to, parents can't protect us from the world forever. They have to trust that they raised their kids as best they can.
So, in celebrating the start of another exciting school year (sarcasm), let's really focus on what teens and parents expectations are and how we can work together to find a "friendly medium." In my opinion, I do think the drinking age should be lowered back to 18. After all,  teens under 21 are drinking. There's no doubt. Let's get rid of the taboo and be honest with ourselves as lawmakers and parents. Perhaps, a teen try alcohol, and decide they totally hate! If your child or teenager does happen to start drinking, you should do your job as a parent or guardian to make sure that either the drinking doesn't become obsessive or that it stops all together. The moral to the story is: Education is Everything!



image via: http://www.cartoonstock.com/newscartoons/cartoonists/ksm/lowres/ksmn2379l.jpg
Statistics come from: http://www.cdc.gov/alcohol/fact-sheets/underage-drinking.htm
Information about the character Fiona Coyne from: http://degrassi.wikia.com/wiki/Fiona_Coyne
Posted By: Jakim Lett
News